EMISSIONS WEB TOOL: HELP SECTION

Disclaimer

Use of any knowledge, information or data contained in this web tool shall be at the user's sole risk. Neither the National Technical University of Athens nor any of its Laboratories, their officers, employees or agents shall be liable or responsible, in negligence or otherwise, for any loss, damage or expense whatever sustained by any person as a result of the use, in any manner or form, of any knowledge, information or data contained in this web tool, or due to any inaccuracy, omission or error therein contained.

The Hellenic Chamber of Shipping shall not in any way be liable or responsible for the use of any such knowledge, information or data, or of the consequences thereof.

Methodology

Please see Psaraftis, H.N., C.A. Kontovas, 2006, "Ship Emissions Study," prepared for the Hellenic Chamber of Shipping, National Technical University of Athens, Laboratory for Maritime Transport.

Modes of operation

This web tool can be run in two modes:

(a) run scenarios on prespecified ships and routes, and

(b) run scenarios on user-defined ships and routes.

No data entry is necessary for mode (a), except user selection as regards ship and route. By contrast, all necessary input should be entered in mode (b).

For mode (a), the web tool currently incorporates the following categories of ships, each further broken down into size sub-categories and typical routes as follows:


Web tool: categories and sizes of ships and typical routes
| | | |
| --- | --- | --- |
| Ship Category | Size Category | Typical Routes |
| Dry Bulk Carrier | Handysize | US Gulf-Rotterdam |
| | Handymax | Newcastle-Japan |
| | Panamax | Tubarao-Rotterdam |
| | Post-Panamax | Queensland- Japan |
| | Capesize | Queensland- Japan |
| Containership | Feedermax | Hong Kong- Kaohsiung |
| | Handysize | Thessaloniki-Gioia Tauro |
| | Sub-Panamax | Tokyo-Auckland |
| | Post-Panamax | Shenzhen-Rotterdam |
| Crude Oil Carrier | Small Tanker | Skikda-Lavera |
| | Aframax | Ras Tanura-Singapore |
| | Suezmax | Sidi Kerir-Lavera |
| | VLCC | Ras Tanura-Rotterdam |
| LNG | 26,000 DWT | Salalah-Houston |
| | 75,000 DWT | Altamira-Rotterdam |
| LPG | 10,000 DWT | Puerto Bolivar-Rotterdam |
| | 52,000 DWT | Salalah-Houston |
| Reefer | 7,000 DWT | Puerto Cortes-Tampa |
| | 10,000 DWT | Puerto Cortes-Rotterdam |
| Chemical/Product | 5,850 DWT' | Milford Heaven-Wilhaven |
| | 19,000 DWT | Sidi Kerir-Lavera |
| | 45,000 DWT | Ras Tanura-Singapore |
| Ro-Ro Carrier | 10,000 DWT | Jacksonville-Hong Kong |
| | 27,000 DWT | Rotterdam-New York |
| Ro-Pax | 6,480 DWT | Patra -Ancona |
| | 1,475 DWT | Pireaus-Paros |
This table is only indicative and can be expanded in the future. All routes (including those for containerships) are assumed laden on one leg and on ballast on the other. Although obviously for some categories of vessels (for instance, container vessels) this assumption is factually not valid, in the web tool it was made only for uniformity and comparison purposes. An extension of the web tool to cover cases of routes with multiple port stops and the ship being partially full in all legs or sailing triangular routes would be straightforward. Such extension would take as input the entire route sequence, the distance of each leg, the port time in each port stop and the ship's capacity utilization (from 0 to 100%) on each route leg.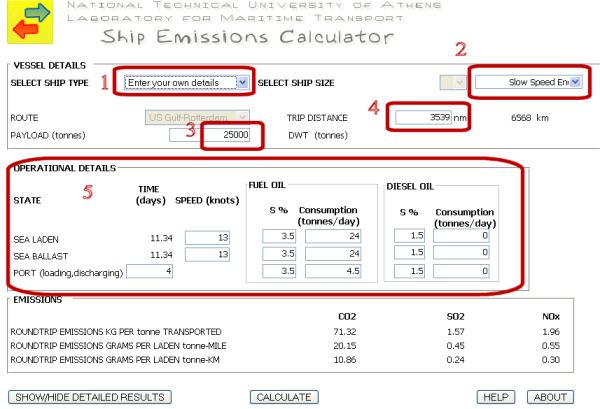 In the Inputs mode (b) you can enter your own data and thus to run your own scenario. You can do this in 5 simple steps.
1. First,
select the

"Enter your own data"

option on the "Select Ship Type" drop-down menu
to enter the mode.
2. Select the engine type (slow or medium speed).
3. Enter trip distance.
4. Enter payload of the laden leg.
5. Enter the operational details.
Then click on the "Calculate" button to get the results.



Notes:


1. By default, when entering the Inputs mode you can see the corresponding values of the last
prespecified ship that you selected. This way you can modify some properties of the last scenario (f.e. trip distance or time at port) and perform a simple sensitivity analysis.
2. When entering trip distance or payload

DO NOT

use the thousands separator "," .