The workshop took  place in Gothenburg, Sweden on January 11st, 2013 

Time flies and the SuperGreen project came to an end in January 2013. After two plenary workshops (Helsinki 2010 and Genoa 2011), four regional workshops (Naples 2010, Antwerp, Malmoe and Sines 2011), a special session on green corridors at the TRA 2012 conference (Athens 2012), close to 50 other external presentations, and three years full of exciting work, the project presented all its major results in its 3rd and final plenary workshop. This took place in Gothenburg, Sweden on 11th January 2013 and  was kindly hosted by SuperGreen partner DB Schenker.

Details of progress and all major results achieved in the project, including  benchmarking methodology, Key Performance Indicators, Green Technologies and ICT systems were presented at the workshop. Directions of further research as well as policy recommendations were also  discussed. The workshop also included talks by invited external speakers, all experts in this area, and a panel discussion. A highlight of the workshop was a preview of the Green Corridors Handbook, soon available at the project's web site. Mrs Gudrun Schulze (DG-MOVE, TEN-T) delivered the workshop's closing speech.




PHOTO GALLERY:  Gothenburg event's gallery - Click here

 For more information  please click here.   (Presentations are available to download)


PURPOSE OF THE PROJECT
The purpose of 
SuperGreen
is to promote the development of European freight logistics in an environmentally friendly manner. Environmental facors play an increasing role in all transport modes, and holistic approaches are needed to identify 'win-win' solutions. 
SuperGreen
will evaluate a series of 'green corridors' covering some representative regios and main transport routes throughout Europe.                  
More
The European Commission promotes the "Green Corridors" concept in order to improve energy efficiency and to reduce the environmental footprint of the transport sector. Launched at the beginning of 2010, the project SuperGreen will assist the Commission with developing the Green Corridor concept.
SUPERGREEN HANDBOOK
HANDBOOK VOLUME I
[Download]
HANDBOOK VOLUME II 
[Download]
                    
SUPERGREEN KNOWLEDGE BASE
To access our online SuperGreen Knowledge Base  click on the following link: 
http://88.32.124.84/SuperGreen
NEWSLETTER 
Click
here
to download the latest newsletter.
The 9 selected corridors in 'metro' format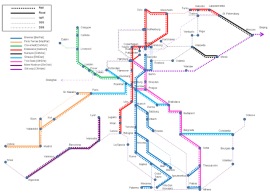 More