RESEARCH / FUNDED PROJECTS / EVIMAR
EVIMAR

The European Virtual Maritime Institute
The marine industry faces an ever-increasing globalization and "virtualization". The aim of this project was to address the urgent for a European Maritime Institute that would:
• support the rapid and efficient delivery of innovative tools and solutions that could equip the European Maritime Sector with necessary know how in order to meet the challenges of new century shippig;
• provide the long term focus for business decisions and technology identification;
• provide the necessary tools and methodologies for describing the expected operational environment for maritime technology;
• derive the demand for novel techniques and new technology solutions built on specific future scenarios;
• provide a formal, legal and management structure that could be used as a model for other virtual enterprises;
• be an enterprise operating on terms similar to traditional institutes at the end of the project period.
The complexity of the problems addressed by the European Maritime Virtual Institute was such that a holistic approach was required. Cost savings, efficiency and competitiveness were key factors for success for today's European Maritime Sector industries, and the development and deployment of new research-generated techniques and technologically innovative products were able to achieve certain added value by addressing tomorrow's business challenges today.
Moreover, such operational processes could be further supported and reinforced by addressing in parallel the physical, ideological or legal barriers currently standing in the way of rapid deployment of many efficiency-boosting solutions.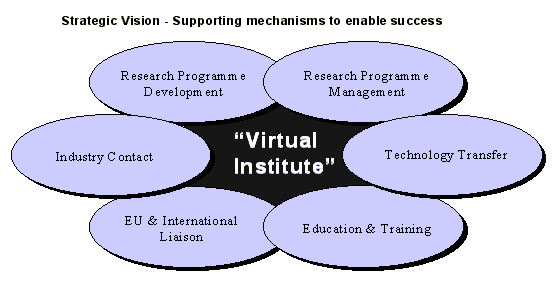 Theme mechanisms - A Strategic Vision and supporting mechanisms


Except for NTUA-LMT, the remaing EVIMAR partners were:
| | |
| --- | --- |
| FORCE - Danish Maritime Institute | DK (Coordinator) |
| British Maritime Technology Ltd | UK |
| CETENA SpA | I |
| Forschungszentrum des Deutschen Schiffbaus | D |
| Institut de Recherches de la Construction Navale | F |
| Landwell | DK |
| Marin | NL |
| Marintek | NO |
| Maritime Development Center of Europe | DK |
| Sjoefartens Analys Institut | S |
| Scenario Management International AG | D |
| SIREHNA | F |
| SSPA Sweden AB | S |
| VTT Manufacturing Technology | FIN |
| WEGEMT | UK |
| National Technical University of Athens | GR |
| Instituto Superior Tecnico | P |

Website:

evimar.ec-nantes.fr
CONTACT INFORMATION
Laboratory for Maritime Transport
National Technical University of Athens
9, Iroon Polytechneiou str
157 73 Zografou , Greece
Tel: +30 210 772 1410 (Secretariat)